Quill
: From the Middle English
quil
meaning hollow reed or bobbin; akin to Middle High German
kil
meaning large feather. (It has several meanings.) 1. a bobbin, spool or spindle on which filling yarn is wound. 2. The hollow horny barrel of a feather, the hollow sharp spines of a porcupine or hedgehog. 3. Something made resembling the quill or feather especially a pen for writing.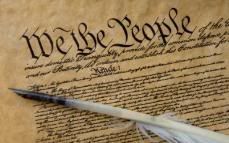 The
quill pen
was in use between the 6th and 19th centuries. That's 1300 years folks!
I'm sure I don't need to tell any of you that A LOT has been written with a quill pen.
How dare we complain when our computers act up.
Have you ever written with a quill pen? I haven't. I think I'd like to. Maybe I could imagine myself as Louisa Mae Alcott or Jane Austen or Ralph Waldo Emerson or Emily Dickinson or...the list is long.
If you wanted to write and you didn't have a computer or a typewriter (what is that?) would you be driven enough to write by hand with a quill? No auto correct, no spell check. Ink stained fingers.
Isn't that romantic?