It has begun, the Third A to Z Challenge! Are we ready?
Thank's to
Arlee Bird
, who is the inspiration behind the A to Z Challenge.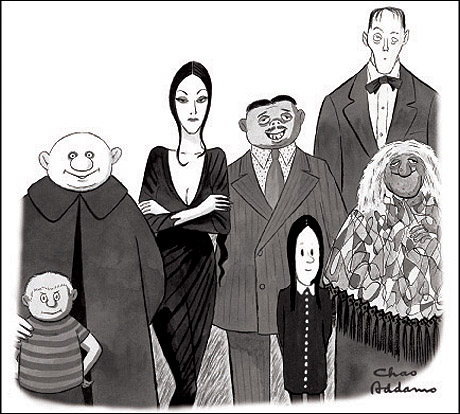 For this, my third year doing the challenge, I am going literary. For every letter of the alphabet I will talk about a book, an author or a character from fiction or myth that made an impression, was inspirational, or caused me to think.
Charlotte Dean Stark
, my first best friend whom I've written about before and no doubt will again, had a large, personal library. It was larger than my own family's because she had more space, more book shelves.
Among her books was a collection of cartoons by
Charles Addams.
Almost every time I visited (which was often) I went right to that book and looked through every-single-page. One time Charlotte teasingly told me she was going to hide it so that I'd explore other books.
What was it about the
Addams Family
that captured the attention of seven/eight year old girl? I think they appealed to my already budding sense of irreverence. I think they reminded me of my own family, because they were, beneath the macabre veneer, a loving, healthy, functioning family unit. And I think, in retrospect (which as we know is always 20-20) the Addams Family taught me a great deal about acceptance.
Although I enjoyed the original TV show and the movies (Angelica Houston and Raul Julia were SO prefect as Morticia and Gomez) the cartoons will always come first in my heart.
I would love to share some cartoons, but the family of Charles Addams would prefer that none of his work appear on the internet.
Do you have a favorite Addams Family character? I'm partial to Wednesday, of course.
A is for the Addams Family
Other A influences include Hans Christian Andersen, Aragorn and Anansi the spider.